Da Vinci Code filming 'boosted' Lincoln Cathedral's income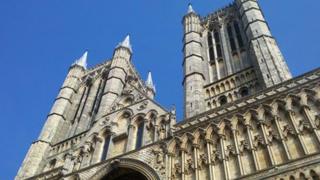 Prominence as a film location has helped Lincoln Cathedral to generate extra revenue by attracting new visitors, officials have said.
Movies The Da Vinci Code and The Young Victoria have been filmed there, since 2005.
But officials said that while being willing to "bend, but not break" to accommodate new productions, the cathedral's primary role remains as a place of worship.
The 900-year-old building costs £3m-a-year to run, with about £1m being raised from visitors and events.
"We put a great deal of effort into planning and believe that we are doing all that is necessary to maintain our funding," officials said.
It also receives a further £375,000 from public donations - along with grants from the Church Commissioners and English Heritage.
Up to £13m needs to be raised by the cathedral over the next 10 years to pay for ongoing restoration work.
'Media hype'
The Dean's Verger, John Campbell, said the media hype created by The Da Vinci Code's filming attracted a lot of publicity, which resulted in a 22% rise in visitors.
"This was the biggest benefit to come from the film", he said.
The cathedral had a total of 208,000 visitors in 2006.
Mr Campbell said: "It sort of introduced people to this massive building - this great icon of Lincoln and people started to look at the building as they had never looked at it before.
"We would certainly consider more applications from film makers, as long as they fit in with the diary and without compromising the core values of the cathedral," he added.
Paintings and statues used in The Da Vinci Code were also auctioned to raise money for the cathedral after filming had finished.
Professor David Sleight, head of the media faculty at the University of Lincoln, described the cathedral's role as a film location as "priceless".
He estimates the movie's filming was worth in the region of £250,000 to the cathedral.
"I'm sure [it] has gone a very long way in supporting the fabric and the upkeep of the building," he said.
"The cathedral is becoming known as a welcoming venue for film makers and I'm sure they realise that the benefits financially are such that it is a very good way of making sure the funds are there to support the cathedral in the future."
The cathedral, which was used as a double for Westminster Abbey in both The Young Victoria and the Da Vinci Code, has also hosted a variety of TV programmes.
Shows have included Antiques Roadshow and Scaling Britain, which saw Jonathan Foyle, of Time Team fame, climb to the top of the cathedral's central tower - all 82.9 metres (272 ft) of it.
Mr Campbell said the cathedral's successes were down to its flexibility and the willingness of staff and volunteers.
"Humbly, I think we are just good to work with, if we accept a film we have to go in to it fully - it's a partnership," he said.
"We bend, but we do not break - that's one saying that Tom Hanks and I came up with when he was here."