Woodland trust tells farmers to plant trees to protect crops from drought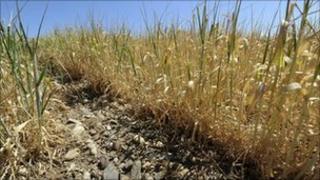 Calls for farmers to plant trees to reduce the risk of crops being affected by drought conditions have been made.
The Grantham-based Woodland Trust said trees help to maintain water levels in soil during periods of dry weather.
The charity said the technique was widely used in Europe, Canada, America and China.
Alison Kirkman, from the trust, said "as long as the trees are planted at the correct distance, it's been proved to work".
"We are trying to encourage farmers to use trees to their advantage," she said.
At Belton House, near Grantham, measures are also being put in place to save water when the Anglian Water hosepipe ban comes in to effect from Thursday.
Staff are planning to turn off the fountain in the Italian garden and other non-essential supplies.
Although not bound by the conditions of the ban, manager of the National Trust property, Alec Gordon, said they needed to be "sensitive" to the situation.
He said: "All our visitors are watching their own gardens dry up - so what sort of message does it give to them to see precious water evaporating away."