Land speed bid car Bloodhound visits Lincoln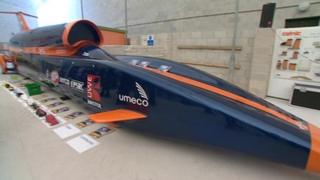 A replica of the car which a British team hope will break the world land speed record has gone on display for one day at the University of Lincoln.
Organisers hope the full-size, 12m (39ft) version of Bloodhound Super Sonic Car (SSC) will inspire students at the Engineering School.
Bloodhound SSC aims to beat the current record of 763mph (1,228km/h) in South Africa later this year.
Engineers believe the car will be able to reach speeds in excess of 1,000mph.
Paul Ellerton, from the Lincolnshire Engineers Panel, which has organised the visit, said he hoped the car would "inspire the next generation of Lincolnshire's engineers and scientists".
The previous land speed record was set by the Thrust Supersonic Car in 1997.
Visitors were able to see the replica car, watch a short film about the Bloodhound and take part in a guided tour of the Engineering School.
Bloodhound SSC is powered by a Eurofighter jet engine and according to engineers should travel faster than "a bullet being shot from a hand gun".