Health watchdog 'not told' about closure of Clayton ward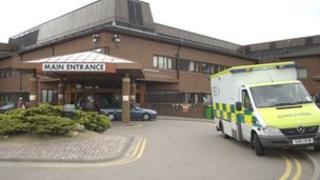 A health watchdog has complained it was not given advance warning of a decision to close an elderly care ward at Lincoln County Hospital.
The Clayton ward is being shut over the next few weeks after being strongly criticised in a Care Quality Commission (CQC) report earlier this year.
Hospital bosses said the ward's closure was not related to the criticism.
But Lincolnshire County Council's health scrutiny committee said it was "shocked" at the decision.
The CQC report, published in February, had identified "shortcomings in patient dignity and staff training" on the ward.
Tracy Pilcher, deputy director of nursing and patient services, said the closure was part of a "site reconfiguration".
She said not as many beds or wards were needed as patients were spending less time in hospital.
'Horse has bolted'
However, committee chairman Christine Talbot said United Lincolnshire Hospitals Trust had given no indication of its intention to close Clayton at a meeting last month.
She said: "Andrew North [ULHT chief executive] came on the 14 March to give us a progress report on the CQC in both the Pilgrim [hospital] and the County. He told us he was coming to tell us about the transformation programme.
"Unfortunately on the day of the meeting he said he was not in a position to update us.
"This weekend I was issued with a briefing notice which explained why they were closing the ward.
"For me to get this information now with no intimation it was going to happen is a bit like closing the stable doors after the horse has bolted."
Ms Talbot said the watchdog would be asking ULHT to attend a committee meeting on 18 April to answer questions about the closure.