Rise in visitors to Lincolnshire tourist attractions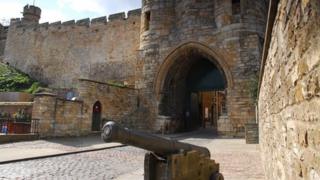 The number of visitors to tourist attractions run by Lincolnshire County Council is increasing, figures suggest.
The Collection museum has seen the biggest increase in visitors, with 86,015 visiting over the 12 months up to April - compared to 64,495 for the previous period.
The overall number of visitors across the six sites increased by about 10%, from 336,502 to 369,934.
Only Lincolnshire Archives and Gainsborough Old Hall saw a fall.
Both of these sites were closed for part of last year to allow for improvements.
But the county council attributed the overall rise in visitor numbers to improvements like these.
Jonathan Platt, head of libraries and heritage, said: "We have invested in our sites and we are seeing the rewards which is fantastic."
Magna Carta anniversary
Recorded visitors to Lincoln Castle, which is being refurbished this year, increased by 8,307 from 151,155 to 159,462.
Planned refurbishment work includes a new vault to showcase the Magna Carta to coincide with the 800th anniversary of its signing.
Once completed, admission to the castle grounds will be free during the day.
The Museum of Lincolnshire Life had 61,558 visitors over the last 12 months, up from 53,829.
The number of people visiting the Battle of Britain Memorial Flight increased from 30,038 to 33,471.
People visiting Gainsborough Old Hall fell from 27,276 to 23,280.
Those visiting Lincolnshire Archives fell from 9,709 to 6,148.