Augsburg raid's 70th anniversary marked by veteran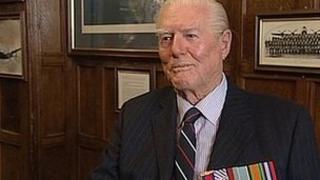 One of the most daring bomber raids of World War II has been marked with a special ceremony in Lincolnshire.
More than half the attacking force were lost trying to destroy an engine factory, deep in the heart of Hitler's Germany, on 17 April 1942.
But the low-level, precision raid, using the newly introduced Lancaster, served as an important lesson to future special operations, including the famous Dambusters.
A group of enthusiasts, experts and the last surviving veteran gathered at the Petwood Hotel, near Woodhall Spa, to mark the 70th anniversary of the raid.
Aviation historian Robert Owen said the idea of an attack in daylight - after earlier such missions had been shot to pieces - was a huge surprise.
Tree-top height
"Everybody thought they were playing a practical joke. It was one of the most audacious raids Bomber Command mounted, certainly at this stage of the war.
"And yet in terms of airmanship, courage and determination and skill, it is one of the greatest."
The target was a factory in Augsburg, in the south of Germany, which made engines for submarines.
Instead of a mass raid, only 12 aircraft would be used, flying at tree-top height in an attempt to take defenders by surprise.
Much faith was placed in the Lancaster, faster and better armed than previous RAF bombers.
Using the new plane gave Flight Lieutenant Patrick Dorehill, who had so far used Hampdens, more confidence.
Fighter attack
"We did a week or two of low level training beforehand and I confess before operations on Hampdens I was always a bit nervous.
"But prior to this (mission), because I thought that low level, because of all the armament that the Lancaster carried, I thought that it would be a fairly easy affair.
"I wasn't nervous at all."
Commanded by Squadron Leader John Nettleton, six aircraft set off from RAF Waddington and six from RAF Woodhall Spa.
But while over occupied France, six of the aircraft flew too close to a Luftwaffe airfield and were attacked by fighters. Here the limitations of the Lancaster were cruelly exposed.
'Kind of shock'
Flt Lt Dorehill said: "The worst experience was when Dusty Rhodes on our right - there was Garwell on our left and Dusty Rhodes on our right - when Dusty Rhodes was on fire and his plane just sort of…. you could see the flames in the cockpit.... it just sort of swooped, and we raised up a bit to try and escape from being hit by him and of course that was a real disaster.
"Then I thought, with the whole Luftwaffe after us, I never thought we would get there at all but Nettleton was determined to proceed.
"I thought we could have escaped if we had wanted to, to the south or the west, but Nettleton was determined to go on, quite rightly."
Four planes were lost near the airfield and another over the target. In the second wave, two aircraft were shot down by fire from around the factory. Of the 85 men who took part, 49 were posted as missing.
Flt Lt Dorehill admitted the mission affected him but his sense of duty soon took over.
"I was in kind of shock for a time afterwards but they were good enough to give us three days leave, which I enjoyed. When I came back I trained as a captain and got my own aircraft."
Despite little damage being done to the factory, Sqn Ldr John Nettleton was awarded the Victoria Cross and Flt Lt Dorehill the Distinguished Flying Cross.