Dwindling congregation at West Torrington church forces sale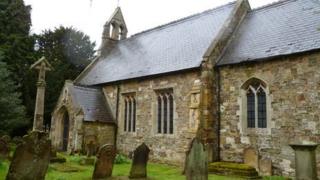 A church with a congregation of just one person has been put up for sale in Lincolnshire.
The church of St Mary, West Torrington, has a guide price of £30,000 - with the condition it is not sold as a home.
The Diocese of Lincoln said it was selling the building in order to direct money to churches which were well used.
Judy Crowe, secretary of the Closed Churches Uses Committee for the diocese, said the Church of England was not a "bottomless pit".
She said: "Unless people who live in these communities support their local churches, then the future for them isn't very good.
'Centre of the community'
"Lincolnshire 100 years ago had a large number of labourers working the farms.
"Nowadays, those villages are shrinking and there are not enough people to support all the churches which were built."
Former church warden Sue Heron, said she was "extremely sad" the Grade II listed building was being sold as "it had brought people together".
"Sadly from this village it [the congregation] was just me. It just seems to be yet another thing where we've lost the centre of the community."
She said for many people church functions were the only time they met other people from the village.
The church, first built in the 14th Century and later rebuilt using much of the original stone in 1869, is being sold by Robert Bell and Company.
Colin Low, from the Horncastle-based firm, said it had so far received inquires from a glass blower and someone looking at using the building as a recording studio.