RAF surveillance planes given safety all-clear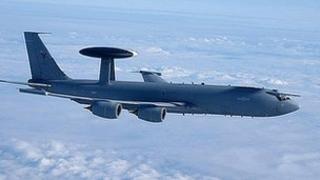 A fleet of RAF surveillance planes grounded after a fault was found on one of the craft has been cleared to fly again.
Seven Boeing Sentry E-3D aircraft were taken out of service on 12 April as a precautionary measure after the fault was discovered on a routine inspection.
The planes, based at RAF Waddington in Lincolnshire, provide early warning and fighter control systems.
The Ministry of Defence (MoD) said it had no more safety concerns.
An MoD spokesperson said: "Following detailed analysis of the technical issue that temporarily suspended non-essential routine E-3D Sentry flying, the aircraft have now been cleared for flight again.
"The RAF chain of command have reviewed the safety evidence relating to the E-3D Sentry and have no remaining safety concerns.
"As such, the temporary suspension of E-3D Sentry non-essential flying activity, imposed as a precautionary measure on 12 April, has been lifted and all flying operations have been resumed."