Family pay for new £1.5m lifeboat in Skegness, Lincolnshire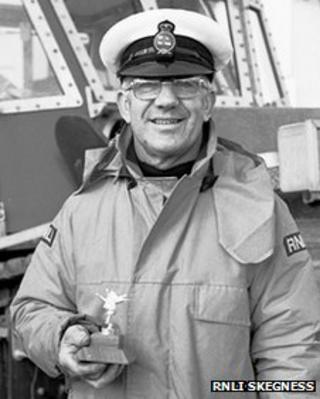 Members of a family which has been associated with the Royal National Lifeboat Institution for 200 years have paid for a new £1.5m lifeboat.
Joel Grunnill MBE served as a lifeboat man for 45 years in Skegness, in Lincolnshire, and left money in his will to the charity.
His cousin April Grunnill, a RNLI box secretary, also donated towards the new Shannon class lifeboat.
The boat will be named after the pair and will be in operation from 2016.
It will replace the RNLI's Mersey class lifeboat, the Lincolnshire Poacher.
Ms Grunnill said: "Members of the Grunnill family served on the lifeboat from the early 1800s and Joel was the last of the family to do so.
"I know he would be thrilled that the family's connection with the RNLI in Skegness will continue for many years to come in the form of this new lifeboat."
Mr Grunnill, who was a life-long RNLI volunteer, helped collect money for the charity as a child and served as a lifeboat man helping to save 197 people.
He was 15-years-old when he joined the crew at the start of the World War II and later became second coxswain, holding the position for 33 years.
Mr Grunnill, who was awarded an MBE for services to the RNLI in 2008, went on to become the Skegness Lifeboat Station honorary secretary and then chairman until his death in May, at the age of 86.
Ms Grunnill, a RNLI box secretary, empties and counts donations from 200 RNLI collection boxes in and around Skegness and has collected £200,000 for the charity.
Alan Fisher, Skegness RNLI lifeboat operations manager, said: "The new lifeboat will be a fitting legacy to a man who was devoted to the RNLI.
"Every time the volunteer crew go to sea, I know they will be thinking of Joel and all the help and support he gave them over the years."
The first operational Shannon class lifeboats, which have seats designed to protect crew members' spines, will go into service next year.