Housing top of City of Lincoln Council's election agenda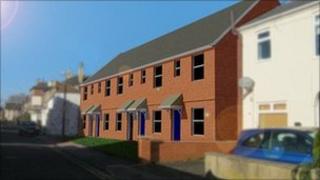 As residents prepare to vote in the City of Lincoln, its councillors and candidates agree housing is a priority.
According to official figures, there are currently 2,500 people on the council's housing waiting list.
In the 1990s, the authority had 12,500 homes but after the Right-to-Buy scheme, this fell to 8,000.
In October 2011, the Labour-controlled council was granted permission to build five, three-storey town houses, its first in 20 years.
On 3 May, one third of the city council's 33 seats are up for re-election. Labour currently controls the authority with 17 seats. The Conservatives have 14, the Liberal Democrats one and there is one other Independent seat.
'Drastic' housing shortage
Talking about the housing shortage in Lincoln, Labour councillor Ric Metcalfe said: "The key theme for us has got to be helping people with the impact of the current recession and that means essentially addressing the housing crisis."
Conservative Marc Jones said: "There's no reason at all now the government has brought in a better policy for letting us keep council house rents that we can use that income to build new council homes.
"We should be building hundreds," he said.
Deputy chief executive of Lincoln's YMCA Mark Hills was clear about the housing situation in Lincoln.
"Across the country there is a dire need for accommodation to enable people to be moved through services such as the YMCA into their own independent living," he said.
"Currently in Lincoln, there is a drastic shortage of accommodation."
Lib Dem candidate David Harding-Price said his party wanted to make use of the empty properties in Lincoln.
"We would look at all the empty properties we have around the city, whether in public or private ownership and bring those back into use.
"That would reduce our homeless and housing issue by quite a considerable amount," he added.
A full list of candidates for the City of Lincoln election is available here.