Government approves £50m Mablethorpe housing development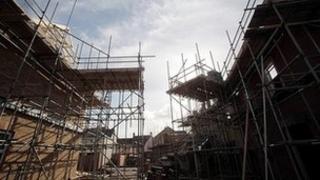 A £50m development at the centre of a planning row is to go ahead in a Lincolnshire resort.
East Lindsey District Council recently granted preliminary approval to developers Lindum Group to build 180 homes and a supermarket in Mablethorpe.
Although Lincolnshire County Council opposed the plans, Communities Secretary Eric Pickles raised no objections.
Lindum director Paul McSorley said they had "worked for years" on the scheme.
Campaigners in favour of the project said the town would now prosper.
Local people ran rival campaigns both for and against the Golf Road development.
District councillors initially rejected the plans for the Golf Road scheme but then reversed their decision in March when the application was re-heard following a complaint from the developers.
'Flood concerns'
The county council had urged the Communities and Local Government Department to turn down the proposals because they went against local planning policies and had concerns over flooding and the impact on local trade.
But after considering the matter the Secretary of State for Communities, Eric Pickles, said he had no objections to the development and said final approval could be determined locally.
James Gilbert, from East Lindsey District Council, said: "Although the council has approved outline planning permission for this development we now await a further, more detailed application, from the developer."
Stephanie Carruthers, chairman of MAGLIN, a group set up to campaign in favour of the project, said: "It'll take between five to seven years to build but there'll be jobs in the supermarket, in the petrol station, in the training centre and there'll be homes for local people.
"Other companies will now come into the town and the centre will prosper and Mablethorpe will grow."
Eddy Poll, executive Lincolnshire county councillor, said: "It's a bad idea for Mablethorpe town centre because it will suck the life out of it.
"East Lindsey commissioned an independent retail impact assessment which said the town has capacity for a development of this size but not where it's being suggested.
"The whole point of a local planning system and a national planning policy is something to judge your decision on, and this has gone against all of them."
Paul McSorley, a Lindum board director, said: "We have worked for years with the Environment Agency, with East Lindsey District and with the county council through the coastal steering group to make sure we brought forward a safe and successful application."