Lincolnshire still 'invaded' by illegal sport of hare coursing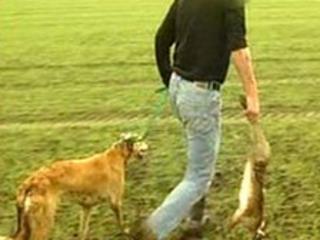 Police say hare coursing is still a significant problem in Lincolnshire - despite the sport being illegal in the UK since 2005.
Lincolnshire Police said people from outside the county are travelling in to take part in the sport.
At the height of the hare coursing season there can be 40 a day, the force's wildlife crime officer said.
One man was given an anti-social behaviour order (Asbo) banning him from entering Lincolnshire.
PC Nick Willey, wildlife and rural crime officer for Lincolnshire Police, said: "We have been inundated with people travelling from outside the county from all over the country.
"If you can imagine on one day we probably have 40-odd incidents in the height of the season then that really, really stretches our resources."
The man given the Asbo was among a group caught hare coursing on Boxing Day.
Lincolnshire Police runs an operation each year, called Operation Galileo, to tackle the illegal activity over the autumn and winter months.
PC Willey said there had been a slight increase in the number of incidents over the last season, compared to the year before.
'Invaded' by gangs
The National Farmers Union has previously said that Lincolnshire has more problems with hare coursing than other counties because it is relatively flat.
Mark Leggott, a farmer from the Boston area, said fields can be badly damaged by hare coursing, and said the punishments should be greater.
"As farmers we take great pride in our crops and conserving wildlife so on two counts we find it rather offensive to be invaded by these people," he said.
"We have gangs of people coming in 4x4s onto the farm, bringing the dogs on without permission to kill the hares.
"They are also driving across fields regardless of the weather conditions and leaving ruts across the fields which are really scars to be seen for the rest of the cropping year."