WWII pilot remains return to America after Lincolnshire discovery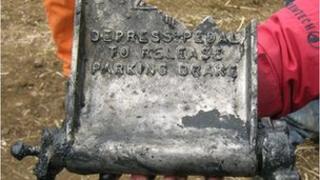 The remains of a World War II pilot have been returned home to America after his crashed plane was discovered in Lincolnshire.
Charles Moritz and parts of his aircraft had been buried under a field near Faldingworth since he crashed on 7 June 1944.
They were finally uncovered by a group of aviation archaeologists called the Lincolnshire Aircraft Recovery Group.
He will be buried in Illinois with full military honours on Saturday.
Catherine Marshall-East and her husband John will represent Lincolnshire Aircraft Recovery Group (LARG) at the funeral.
Mrs Marshall-East said: "It's overwhelming to think that this young man, who was only 21, has laid in this field for 68 years.
"We can at last give the family closure. After all these years they can have him back where he belongs.
"He can be buried in the family grave alongside his parents."
Find unexpected
Mr Moritz, a 2nd Lt from Effingham, Illinois, was flying one of two North American P-51C Mustangs taking part in training flights on 7 June 1944.
The two aircraft collided and the other pilot survived.
The force of Mr Moritz's aircraft hitting the ground caused the location to become hidden over time.
David Stubley from LARG, which is run by volunteers, said: "It hit the ground that hard it buries itself. The soil goes back on top of it."
The group used metal detectors to locate the aircraft but LARG did not expect to find the pilot.
The Ministry of Defence grants licences for groups to dig for aircraft remains, and licences are not usually given for sites where human remains are buried.
Lincolnshire Police had to be informed once human remains were found, buried 18ft (5.5m) deep.
The remains of the pilot were later collected by the American authorities.
The wreckage was transported to the LARG workshop at the Lincolnshire Aviation Heritage Centre, where it will go on display in future.