How are rescued baby seals returned to the wild?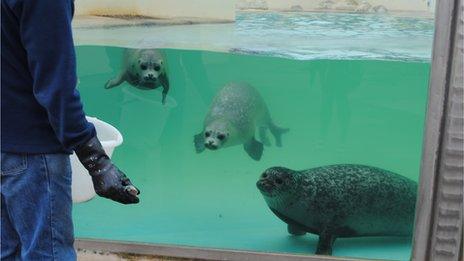 The plight of a lost seal washed up in Lincolnshire has attracted much attention.
Eve was found at Chapel St Leonards in December, wearing an unusual looking metal cap which turned out to be a tracking device.
The onboard data helped staff at nearby Natureland work out that the hooded seal - more at home in Iceland - had previously been rescued in Germany before being tagged and released.
But Eve is just one of dozens of distressed seals found on Lincolnshire's beaches each year. So why do they get washed ashore, and how difficult is it to get them back into the wild?
Natureland Seal Sanctuary in Skegness was first run by John Yeadon, who in 1965 answered a magazine advert for a marine zoo manager.
Mr Yeadon's son Richard - who now owns the centre with his brother Duncan - said: "Within the first couple of months people were saying 'we've just found this on the beach. Can you do anything with it?'
"It was a total surprise. He had no idea it was going to happen."
The centre now rescues between 35 and 40 seals each year, all from the coastline stretching between Boston and Anderby Creek.
Unlike Eve, they are nearly always harbour seals or grey seals, which live in the waters nearby.
Most of those rescued are pups, with about 95% being less than a year old.
Sometimes they will be underweight after becoming separated from their mothers, they may have illnesses or bite wounds from other seals, or could have been injured by debris in the water.
Those which need help are driven to Natureland to spend their first week in the Seal Hospital, where they are given medication and taught to feed on fish.
Over the following weeks, they will be graduated from a small to a large pool, and fattened up until they are big enough to be released.
Rescued seals are also tagged and named - two current occupants of the rearing pool are called Cheryl and Justin, after singers Cheryl Cole and Justin Bieber.
The whole process usually takes between three and six months.
Releasing "local" seals back into the wild is usually straightforward - Natureland is on the coast so they can simply be carried to the water in a crate.
But Eve is a special case, and will need to be flown north because she usually lives in colder waters.
"She's a hooded seal, which are normally found in the northern Atlantic around Greenland, Iceland and eastern Canada, so she's a long way from home," said Mr Yeadon.
"She will have been born last April time in Greenland or somewhere like that. For some reason she came right down into the North Sea and ended up in Germany."
Natureland originally planned to fly Eve to Iceland, but has been unable to find a rescue centre which could support her if she gets into further difficulties.
Now she may have to be flown to Scotland or the Shetland Islands, to give her a head start - hopefully in June.
"I think Eve would be happier with her own kind," said Mr Yeadon.
"She's got other seals around her but they are the wrong type for her."
Because of her young age, Eve still has the chance to breed if she finds other hooded seals.
"The right decision is to give her a second chance to find her way home," said Mr Yeadon.
BBC Radio Lincolnshire will be broadcasting live from Natureland on the afternoon of Tuesday 15 May as part of its One Week in Lincolnshire project.
Related Internet Links
The BBC is not responsible for the content of external sites.