Lincolnshire academies' spending highlights accountability 'failures'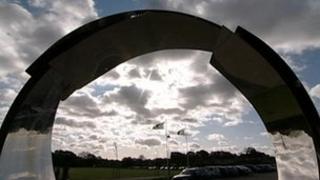 An MP chairing a Parliamentary watchdog has described spending by four Lincolnshire academies as "shocking".
The Committee of Public Accounts fears the system for checking school spending in England is not robust enough.
Its chairperson Margaret Hodge cited salaries at the Priory Federation of Academies in Lincolnshire as an example of poor value for taxpayers' money.
But the Department for Education said academies have more rigorous financial systems than maintained schools.
Labour MP Mrs Hodge said: "The experience there [in Lincolnshire] showed up systematic failures in the current framework of accountability, which is just not acceptable.
"There were lots of people looking at it but nobody looking at it with the right eyes."
Mrs Hodge said she only became aware of spending after being emailed by the BBC.
She raised the issue when the committee took oral evidence from government representatives on 28 November, but the report on financial management of schools has only been published now.
She questioned the salaries of the top four members of staff, including the academies' chief executive officer Richard Gilliland who earned more than £200,000.
'Sex games' money
Since the committee met, the academies' chief executive officer Richard Gilliland has resigned after a government investigation highlighted "serious failings" in the financial management.
The investigation revealed Mr Gilliland had used public money to buy items including "sex games and supplements".
Taking evidence in November, Mrs Hodge questioned the value for money of an education centre in France bought by the Priory Federation of Academies.
She said: "Is it good value for money to spend £500,000 buying property in France and a further £1.4 million on it?
"The year 2010 shows that the federation paid four trustees more than £31,000 on travel and subsistence. When asked, the federation said that a lot of this went on travelling to and from the French Centre. Again, this is a shocking example."
But in response, Sir David Bell, who was then the Department for Education's permanent secretary, said: "What you have is a local authority or, in this case, a group of schools, deciding that it is appropriate, as part of their efficient management, to have a facility that can be used by the students.
"The danger is that we sit in Whitehall and second-guess every decision made by every school in the country. Frankly, it is the road to madness if we do that."
In a statement this week the Department for Education said: "Academies have more rigorous financial systems in place than maintained schools, and have a statutory requirement to produce independently audited annual accounts."