Crime fears over G4S and Lincolnshire Police custody suite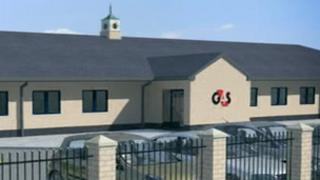 Campaigners fear crime will increase if security firm G4S is allowed to build and run a police custody suite.
The custody suite would be built at the Lincolnshire Police headquarters, which are next to the village of Nettleham.
The group Save Our Local Village Environment (SOLVE) formed after villagers heard of the plans at a meeting of Nettleham Parish Council.
Police and G4S are reassuring residents at two consultation events about the proposals this week.
Speaking at the event earlier, Ch Insp Steve Taylor said: "There's concerns from residents that people will come out from being released from custody and then walk into the village.
"Some individuals have said that may mean there's an increase in crime in the village.
"We will make sure we put [in] resources to monitor and address any issues that ever did crop up."
The plans are part of a 10-year outsourcing contract between Lincolnshire Police and G4S, which began on 1 April.
Transport for detainees
Ch Insp Taylor said G4S intended to seek planning permission in July or August.
G4S intends to transport detainees from the custody suite in Nettleham back to Lincoln city centre, or to transport links such as bus stops.
But retired solicitor Sue Turnbull, who is a member of SOLVE, said detainees could not legally be forced to accept this transport.
"If you were released at three o'clock in the morning and your first train back to Rotherham, say, was at eight o'clock what would you do?" she said.
"I thinking stealing a car is beginning to look like a really good prospect, isn't it?
"This is a rural residential village. The shops aren't protected by the security like they are in Lincoln.
"Nettleham is not an appropriate place to put this. It's full of old people. It's got two schools and three playgroups."
In response to this, Ch Insp Taylor said: "If people are released from police detention they are free and as such there is no power for the police to ask somebody to be forcibly put into a police vehicle or any kind of transport.
"That said, there will be a facility for them to do so and to take them back to the city."
A further event is taking place on Saturday in The Old School, Mill Hill, Nettleham, from 09:30 to 15:00 BST.