Lincoln Police Station could be sold to private sector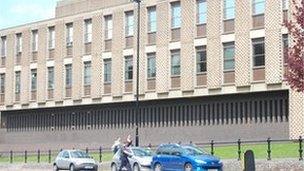 Lincoln's main police station could be sold off and replaced with a smaller facility for people to report crimes.
Lincolnshire Police has confirmed it is considering selling its police station in West Parade to the private sector.
Detainees would instead be taken to a "custody and deployment base" expected to be built at the police headquarters, next to the village of Nettleham.
Opponents said Lincoln needed "a proper police station" and the move would be bad for the city.
Ch Insp Steve Taylor said: "Clearly we need to make sure that we've got something that's a visible and easily accessible facility in the city centre itself. Somewhere that's easily accessible to all residents.
"There's no firm decisions for it but it's not intended to be a police station. It would be somewhere that's more of a facility that's open for certain hours of the day.
"It would be somewhere whereby people can go and deal with any issues and report issues or crimes or concerns that they have and they can be dealt with at that facility."
The new custody suite at the the force's headquarters would be built by security firm G4S, which has formed a partnership with Lincolnshire Police.
Sue Turnbull, a member of Nettleham campaign group Save Our Local Village Environment (SOLVE), said: "Lincoln needs a proper police station, not a shop front in the city centre where people can go.
"It needs a police station where people who are arrested can go and are taken, where there is CCTV, where it's beside the transport links, where their own solicitors can go to them easily.
"None of that is covered in any shape or form by putting it three or four miles out of the city centre where it's not convenient to anybody."
Ch Insp Taylor said money from the sale of Lincoln Police Station would be reinvested.
"There's no firm decisions for it [the police station] but there is potential that it could be purchased by the private sector and on doing so would be developed."
Related Internet Links
The BBC is not responsible for the content of external sites.