Lincolnshire could see 43,000 new homes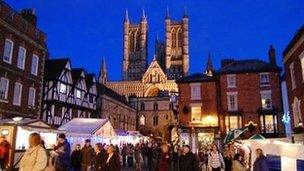 Forty three thousand new homes could be built in central Lincolnshire to meet demand over the next 20 years.
Three councils in the county will put their plans for development out to public consultation in July.
One of eight sites earmarked for development is Swanpool, between North Hykeham and Lincoln, which has already run into difficulties.
In 2008, the Environment Agency criticised the Swanpool plans and said the area was at risk of flooding.
Ric Metcalfe, the leader of the City of Lincoln Council, said: "Obviously it is an area of flood risk, so is most of Lincoln.
"We are talking about the solutions on site and off site that could be found to mitigate the flood risk and satisfy the Environment Agency."
The Environment Agency said it was trying to find solutions to potential flood risks in the area.
Mr Metcalfe said of the wider development: "The city desperately needs more jobs to address the unemployment situation and we desperately need more affordable housing."
Related Internet Links
The BBC is not responsible for the content of external sites.