Boston Market Place trading begins after £2m revamp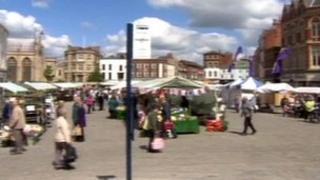 Traders have returned to a 500-year-old market in a Lincolnshire town which has reopened after a £2m redevelopment.
Last July, stalls at Boston Market Place were relocated to the Wide Bargate area of the town while renovation work was being completed.
There has been some criticism as it has taken an extra two months to finish.
Lincolnshire County Council said there were a number of reasons why the redevelopment was delayed including additional drainage work.
The site, at the foot of St Botolph's, has reopened with new zebra crossings, paving, street furniture and signs.
'Real battle'
Jeweller Tim Hopper said the delayed opening of the market has had a negative financial impact on his business.
"With no people about at this end of town it's been very difficult," he said.
"We've had a real battle, we've had a reduction on our rates for the past 10 months but not enough really to compensate what we've been going through."
Amanda Bond, from Lincolnshire County Council, said: "Although we had reasonable weather conditions, there were extra elements of work, such as additional drainage measures, which extended the programme."
On non-market days, parking spaces are available but the number of these has been reduced in a bid to make the area more "pedestrian friendly", the county council said.
Some shoppers said this was an inconvenience.
Steve Willis, from Lincolnshire County Council, said although the market had reopened for business the renovation work was yet to be fully completed.
"There's a few more works to be done but that will be done by the end of the month," he said.