Lincoln gets £45,000 grant to protect partygoers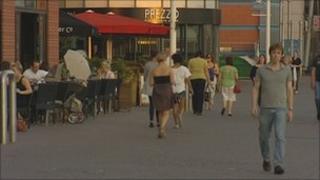 Lincoln has been handed £45,000 of government money to help tackle problems caused by binge drinking in the city centre at night.
It is one of 10 bidders to receive a share of a £1 million fund designed to encourage safer communities.
The money will go towards expanding the city's street warden scheme as well as funding a street pastor scheme.
Cornwall, Durham, Newcastle, Birmingham and Shropshire were among the other successful bidders.
City of Lincoln Council said the money would enable the street warden scheme, which already helps police keep order at weekends, operate on other nights as well.
'Diverse offer'
The Lincoln Street Pastors scheme, a church-based service which helps look after late-night revellers, said the money would allow it to continue its work.
Sam Barstow, the council's anti-social behaviour team leader, said: "It [Lincoln's nightlife] is a big part of our economy but we want to offer a good, safe, enjoyable and diverse offer in the evenings."
The government project is being led by Baroness Newlove, whose husband Gary was murdered by youths he challenged outside their Warrington home in 2007.
Since Mr Newlove's death, his widow has campaigned against drink-related violence and she was made a peer by Prime Minister David Cameron in July 2010.
Last month, Lincoln was awarded purple flag status, recognising it as a safe, diverse and welcoming place to spend an evening.