Boston illegal vodka factory blast 'triggered by smoker'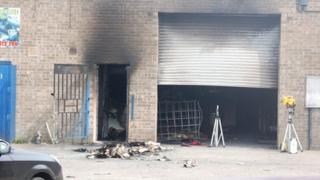 An inquest for five men who died in an explosion at an illegal vodka factory has heard it was probably caused by one of them lighting a cigarette.
The five Lithuanian men died from breathing in fumes during the fire at an industrial estate in Boston, Lincolnshire, last July.
Fire chief Ian Woods said the fire was most likely caused by a build-up of flammable vapours ignited by a spark.
Coroner Maureen Taylor recorded a verdict of accidental death.
Police, fire and ambulance crews were called to the Broadfield Lane Industrial Estate in Boston at about 19:20 BST on Wednesday 13 July.
Erlandas Duzinskas, 19, Vaidas Krupenkinas, 39, Laimutis Simkus, 32, Ovidijus Mejeris, 26, and Ricardas Gecas, 24, all died in the blast.
The inquest at Spalding Magistrates' Court heard three of the men had high blood alcohol levels at the time.
The court also heard evidence from the only survivor, Rytas Gecas, who suffered extensive burns in the explosion.
Mr Gecas said they had all smoked inside the unit while working. He said he thought someone had lit a cigarette with a lighter before the blast.
'Illegal activities'
He told the hearing he had been working at the factory for two weeks before the explosion happened and his job was to put tops on the bottles.
Recording a verdict of accidental death, Ms Taylor said she could not be certain which of the men had lit the cigarette that caused the explosion.
She said: "The only certainty is that illegal activities were being carried out in the unit at the time."
Speaking after the inquest, Ian Woods, deputy divisional officer of Lincolnshire Fire and Rescue, said: "This was a terrible, terrible, tragic accident which has resulted in five people losing their lives."
Lincolnshire Police investigated the explosion but no criminal charges were ever brought.
Det Insp Lorraine Bradley said extensive enquiries were made in Lincolnshire and in Peterborough, where the men had been living, but nobody else involved had been found.
She said: "The events of last July were tragic and have shocked Boston town.
"It brought the issue of counterfeit alcohol into focus and the community have worked with us, supporting intelligence-led operations that disrupt the activities of those involved in this dangerous practice."