Red Arrows given official go-ahead for 2012 season displays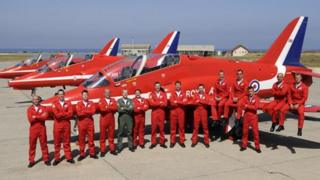 The Red Arrows are preparing for their first public display of the season after being given the official go-ahead.
The Lincolnshire-based aerobatic display team has to be granted its Public Display Authority each season.
The team has been learning to fly as a seven this year following the deaths of two pilots in 2011 and the departure of its first female pilot.
However, the team will still fly high-profile flypasts with nine aircraft.
Group Captain Dave Bentley, who is in overall command of the Red Arrows, said 2011 had been "extremely challenging".
"The 2012 display is an energetic mix of formation and precision flying, and I know how much the Red Arrows are looking forward to the forthcoming season and enhancing their reputation as one of the world's premier aerobatic display teams," he said.
"2011 was an extremely challenging year for the Royal Air Force aerobatic team, both air and ground crew alike.
"The award of Public Display Authority is recognition of the entire team's hard work and commitment."
The team returned to its home base at RAF Scampton this month, after eight weeks of intensive training in Cyprus.
They performed a flypast for the Queen's Diamond Jubilee Muster and Parade at Windsor Castle on Saturday.
The first public display will be at Folkestone on 2 June.