Bridges could be built at Lincoln level crossings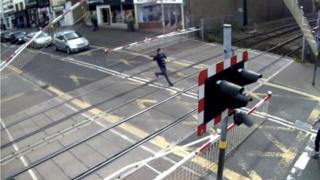 Network Rail is consulting over plans to build two footbridges in Lincolnshire to stop "reckless" behaviour at level crossings.
The company says it wants to stop people trying to beat the level crossing barriers at High Street and Brayford Wharf, in Lincoln city centre.
Pedestrians and motorists have been seen rushing across and some people have even lifted the barriers.
Consultation stands will be at St Marks and the Waterside on 1 and 2 June.
Phil Verster, route managing director for Network Rail, said: "We regularly see people rushing across the level crossings at Lincoln High Street and Brayford Wharf once the warnings have started.
"We even have instances of people lifting the barriers. Clearly this behaviour is highly reckless and dangerous."
The crossings are in busy locations and Mr Verster believes people become frustrated by having to wait.
But the crossings would remain open if the footbridges are built.
Mr Verster said it was important that people had a chance to help refine the designs.
The consultation stands will be in both locations from 09:00 to 17:30 BST on 1 June, and from 10:00 to 16:00 BST on 2 June.
A consultation website will also launch on 1 June.