Market Rasen wins Mary Portas high street cash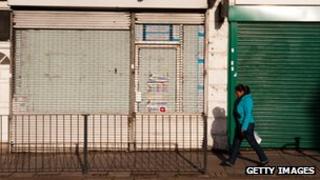 A Lincolnshire town has been chosen as one of 12 winners in a competition to boost high streets across the UK.
Market Rasen will get cash from a £1.2m government pot and advice from retail expert Mary Portas.
The town's bid said its community team would "blitz" unkempt areas and work with landlords to fill empty shops.
The money from the Portas Pilot scheme will be used to offer free parking and restore the appearance of the town's market.
The other successful applicants for the government award were Bedford, Croydon, Dartford, Greater Bedminster, Liskeard, Margate, Nelson, Newbiggin-by-the-Sea, Stockport, Stockton-on-Tees and Wolverhampton.
'Busy town'
Local Government Minister Grant Shapps said he had received more than 370 applications.
The government accepted the 28 recommendations from Ms Portas in her report on how to rejuvenate UK High Streets.
Sara Scott, from the Business Improvement Group in Market Rasen, said: "We're absolutely over the moon about the news, it's a brilliant result for the town and the traders.
"We're hoping to do a regular market on a Saturday, but Market Rasen also has markets on Tuesdays and Fridays.
"So we're hoping that if we put enough effort into making Saturday a big event then there'll be some kind of overflow into the other days of the week to keep the town busy."
Traders in the town believe the redevelopment would not only increase the number of people shopping in the area but also attract more businesses to open.