Lincolnshire Boston Stump church tower revamp completed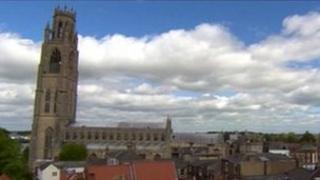 Part of a major restoration programme to renovate a famous church tower in Lincolnshire has been completed.
The £250,000 project in St Botolph's Church, in Boston, has seen a new gift shop, cafe, toilets and offices built.
Work is still underway to restore the north face of the 272 feet (83m) high tower, known as the Boston Stump, which is due to be finished by the autumn.
The Princess Royal, who is a patron of the restoration appeal, is to officially open the facilities in July.
Fundraising manager Peter Coleman said: "We're really looking forward to the opening because it's obviously a really special year for the Royal Family.
"Her Royal Highness is coming to visit us late afternoon on 17 July and will perform the opening ceremony."
The new visitor and community facilities, in one of the largest parish churches in England, were paid for by a number of grants.