Jubilee Pageant features Irish currach built in Lincoln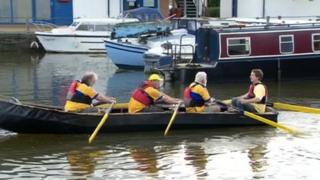 Out of the more than 1,000 boats taking to the River Thames for the Jubilee Pageant, a traditional Irish fishing boat built in a back garden in Lincoln is among the more unusual.
Made from a wooden frame covered in tarred canvas, it was constructed by Damian Woodings four years ago.
The boat is named Breanndan, after a fifth and sixth century Irish monk who reportedly set out on a seven-year voyage in a similar boat, and was made a saint.
Although Mr Woodings is not Irish himself, he says he is interested in Irish culture.
"I wrote in and said it would be a good idea to have a currach in the Queen's Diamond Jubilee to recognise her very successful trip to Ireland a couple of years ago," he said.
Mr Woodings said the flotilla as a whole was going to be "unbelievably staggering" to see.
The 64-year-old retired businessman, who lives in Lincoln, built the West Clare fishing currach by following instructions on an Irish television programme.
'Excited but trepidatious'
The 21ft (6.40m) by 42in (107cm) boat is powered by rowing.
"We are ridiculously excited, but we are trepidatious because we have to row at four miles an hour for a good eight miles," he said.
"It's the consistency of it that is concerning us."
Joining Mr Woodings on rowing duties will be Simon Maltby and Simon Hopkinson, who are also from Lincolnshire.
Peter Groggins, from Lincoln, will steer the vessel while Mr Woodings' daughter-in-law Allison will sit on the boat taking photos.
The colours of County Clare are yellow and blue, while people from Lincolnshire are known as Yellowbellies - so parts of the boat have been painted blue and yellow.
The crew will also wear yellow and blue outfits.
There are many theories over the origins of the Yellowbelly name.
One of the most popular is that it comes from the yellow sash worn by the 10th Lincolnshire Foot Regiment in the 18th century.