Lincolnshire Sausage campaigners plan protected status appeal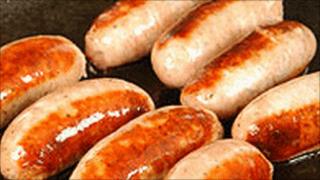 Campaigners calling for Lincolnshire Sausages to get protected status are set to appeal against the government's rejection of the idea.
The Department for Environment, Food and Rural Affairs (Defra) rejected the application on a number of grounds.
It found there were "many variations" across the UK and no enduring link between the product and Lincolnshire.
The Lincolnshire Sausage Association (LSA) claimed its bid had not been considered in enough detail.
Defra's report also said 95% of production took place outside the county.
According to the LSA, an authentic Lincolnshire sausage should contain a minimum 70% of coarse ground or minced pork, packed in natural casings and flavoured with sage.
Janet Godfrey, chairman of the LSA, said: "We have sought legal advice and do not believe that Defra has considered our application thoroughly.
Looking for pledges
"We think we've got a lot of grounds to appeal, especially when you compare us to Cornish Pasties and Melton Mowbray Pork Pies and Traditional Cumberland Sausages, all of which have got PGI (Protected Geographical Indication) status.
"The main issues are they suggest we haven't made a link between Lincolnshire and sausages.
"Anybody in Lincolnshire knows we have a link."
The LSA, which has been campaigning for PGI status for more than seven years, is looking for pledges from Lincolnshire's sausage makers to help fund its legal costs.
It has until 15 June to appeal.
The decision, as it stands, means the Lincolnshire Sausage will not be submitted to the EU Protected Food Name Scheme as a PGI.