Lincolnshire County Council approves wind farm restrictions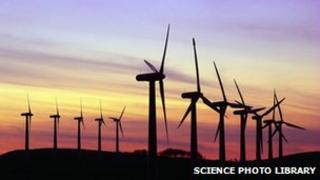 A Conservative-led council has approved new restrictions against the building of wind farms in Lincolnshire.
It voted unanimously and issued a statement advising district councils not to grant permission if wind farms failed to meet strict criteria.
The authority's leader said on Monday he did not want the county to be covered by a "forest" of wind turbines.
Planning decisions would still rest with the seven district authorities in the county.
The strict criteria outlined in the council's policy statement was in relation to residential properties.
Council leader Martin Hill said: "We don't want a wind farm within 2km [1.2 miles] of where somebody lives, this is not an unreasonable point of view is it?"
'Easy win'
Mr Hill said he expected the district councils and other authorities, including the government, to "take into account" the view of the elected county councillors.
Mr Hill said on Monday: "We have already got 75, there are several hundred in the pipeline, and really, as representing Lincolnshire, I don't think we want the whole county to be covered by a forest of the things."
East Lindsey District Council said it would not take a "predetermined view to object to all wind farm developments".
It said that it was legally bound to consider all planning applications in line with planning policy, unlike the county council which can take any view on an application "without consequence".
Councillor Craig Leyland, said: "When making a decision, first and foremost in our mind is the impact of the application on the local area.
'Certainly a backlash'
"It would be inappropriate and irresponsible if we were to take a blanket view to object to all wind farm developments on principle.
"Applicants would portray us as being unreasonable, which would dilute any objections and would potentially result in more wind farm developments in our area."
On Monday, Conservative MP Tim Yeo, chairman of the Energy and Climate Change Select Committee, said: "There is certainly a backlash against onshore wind at the moment."
However, he said the UK needed to move to cleaner energy and stressed there was an economic case for onshore wind.
He said: "Onshore wind is a quick and fairly easy win. The technology exists, the costs are coming down and the costs of subsidising onshore are less than half those of offshore."