Delayed Nottingham cancer-op patient receives apology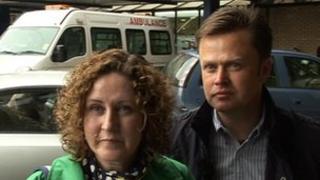 A cancer patient whose life-saving operation was postponed three times in Nottingham has received an apology.
Gillian Moulds said the apology from Queen's Medical Centre (QMC) was about "somebody seeing me as a person, and not just a number".
Her brother Andrew Smith also attended a meeting on Thursday with QMC's chief executive.
Mr Smith had previously complained to the health secretary about his sister's cancelled operations.
He told Andrew Lansley during a ministerial visit to Lincolnshire in April, that the hospital had to improve.
Heartfelt apologies
More than 550 on-the-day operations at both the QMC and City hospitals were cancelled in the first four months of this year.
Peter Homa, chief executive, said: "I would like to reiterate my sincere and heartfelt apologies to Ms Moulds and her family for the distress and worry caused by the regrettable cancellation of operations.
"I met Mrs Moulds and Mr Smith personally this afternoon to answer their questions and provide an explanation of why this happened. We are taking every action possible ahead of next winter to ensure we are never in this position again.
"We can report a much-improved position since the end of April, cancelling significantly fewer operations due to availability of beds."
Mr Smith said: "I want to fight for everybody else out there that's suffering cancer who might not have anybody like me to shout. I'm going to keep on with the campaign as much as I can."
Ms Moulds, 47, from Grantham, was diagnosed with liver cancer earlier this year but had surgery called off in March and April.
At the same time, the QMC faced wider criticism for cancelling hundreds of non-emergency operations this year, which it blamed on a surge in emergency cases.