Campaigners to vote on Boston immigration protest march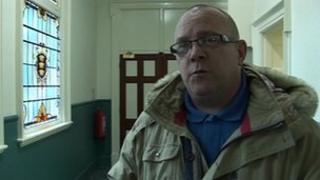 Campaigners in a Lincolnshire town are "seriously considering" holding a protest march to highlight their concerns about immigration.
One was planned in Boston last year, but it was cancelled when the borough council agreed to set up a task force to address their concerns.
Boston and Skegness's Conservative MP Mark Simmonds has warned that the march could be hijacked by extreme groups.
But campaigners feel they are still not being listened to.
Organiser Dean Everitt said: "I think there's been a lot of waffle going on and not a lot of straight answers.
"We are seriously reconsidering putting the march back on."
'Suck in people'
Mr Everitt plans to hold a public meeting within the next three weeks where he and other campaigners will vote over whether to hold a march.
It follows a task force meeting on Friday, when Mr Simmons gave evidence about his experiences of migration to Boston.
A significant minority of the town's population is from Eastern Europe.
Mr Simmonds said the "significant increase" in economic migration had been the most noticeable change since he was first elected to represent the area in 2001.
After the meeting he said: "I very much hope that the march won't take place.
"Inevitably it would suck in people who I don't want to see in Boston.
"As happened before there would clearly be an anti-march protest from the anti-fascist league and that is not the sort of thing we want to see in a nice Lincolnshire market town like Boston."