Arsonists attack beach huts in Sutton-on-Sea resort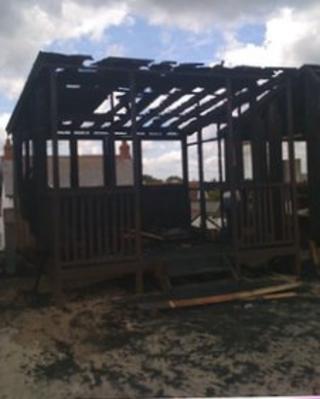 Two beach huts on the Lincolnshire coast have been destroyed after being set alight by vandals.
Four others were damaged in the attack on Roman Bank at Sandilands, Sutton-on-Sea, near Mablethorpe, which started late on Monday evening.
Matt King, of Lincolnshire Fire and Rescue, said a wooden hut and a brick chalet were "totally destroyed".
He said the blaze had started at several different points and was being treated as arson.
Police are urging anyone with information to get in touch.
This latest attack follows a similar fire at the resort last June, in which two other beach huts were destroyed.
In October, five beach huts in Mablethorpe were damaged by fire.