West Lindsey District Council leader calls for prayer ban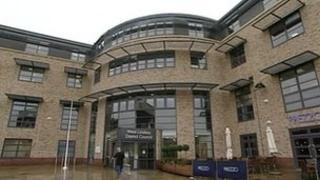 A council leader from Lincolnshire has said he wants to see prayers abolished at the start of council meetings.
West Lindsey District Council's Burt Keimach said the practice discriminated against those without faith.
Mr Keimach said he supported religious freedom, but believes that faith should be expressed in private.
His remarks follow a High Court ruling earlier this year which found it was unlawful for prayers to be said if they were listed on the agenda.
Mr Keimach issued a statement to staff after a case to outlaw prayers before local council meetings was won by the National Secular Society (NSS) and a councillor in Devon.
'Open to everybody'
A leaked email said he was "totally against any and all religious utterances in a public place on taxpayers' money and will heartily cheer when they become illegal".
Although the statement also said "he would abide with the wishes of the full council - and if other councillors want to keep prayers he would respect that".
Terry Sanderson, from the NSS, said he supported Mr Keimach's position.
He said: "There are a lot of people who don't have a faith in Britain, and a lot of people who don't have the Christian faith.
"If we are going to be a coherent country we can't restrict it to one particular denomination - it's got to be open to everybody," he said.
But Rev Charles Patrick from the Middle Rasen and Barkwith group of churches said: "We are a Christian country and it's one sign of that to say prayers before council meetings.
"Prayers are offered in Parliament at the start of each day and I personally find that a very comforting thing. he said.
"I think to respect God is a good and right thing."