Lincolnshire sausage campaigners appeal protected status decision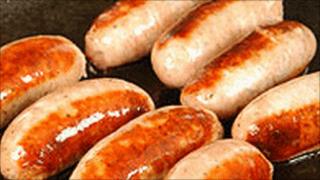 Campaigners calling for Lincolnshire sausages to be given protected status have appealed against the government's rejection of the idea.
The Department for Environment, Food and Rural Affairs (Defra) rejected the application on a number of grounds.
It found there were "many variations" in the UK and no enduring link between the product and Lincolnshire.
The Lincolnshire Sausage Association (LSA) said it "strongly contested" Defra's findings.
'No meat'
Janet Godfrey, chairman of the LSA, said: "The judgement they gave was that 95% of Lincolnshire sausages were made outside the county.
"We've spent the last few days contacting all our butchers and we've come up with a figure of 40%, which means that only 60% are manufactured outside the county.
"That's exactly the same level that Cornish pasties were at when they put their application in," she said.
She added: "The LSA is bitterly disappointed that Defra has capitulated to the interest of large scale commercial producers, one of whom openly admits to putting no meat in its product."
Defra said it would give careful consideration to the appeal and look at any new evidence submitted by the LSA.
The decision, as it stands, means the Lincolnshire Sausage will not be submitted to the EU Protected Food Name Scheme as a Protected Geographical Indication (PGI).
A positive decision would have meant that only sausages made in the county of Lincolnshire could use the name, and they would need to be made of 70% coarse ground or minced pork, packed in natural casings and flavoured with sage.
The UK now has 48 foods protected from imitations by the EU Protected Food Name Scheme, including Cornish clotted cream and Melton Mowbray pork pies.