Airshow celebrates former RAF base's 70th birthday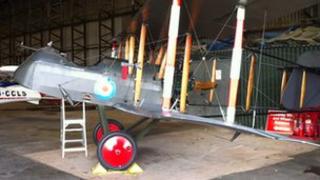 Hundreds of people have attended an airshow to celebrate the 70th anniversary of a former Lincolnshire RAF base.
Wickenby Aerodrome, formerly RAF Wickenby, was used as a bomber station between 1942 and 1956.
The two-day celebration features appearances from the Battle of Britain Memorial Flight and the Red Arrows.
Military aircraft from the past 70 years were also being displayed and a 1940s dinner dance was due to be held.
General manager Gerald Cooper said: "It's our annual airshow but this year is very special because it's our 70th anniversary.
"We've gone all out to get some acts that we wouldn't normally have here so it's a real mixed programme."