Boston fishermen 'lose thousands' after chemical spill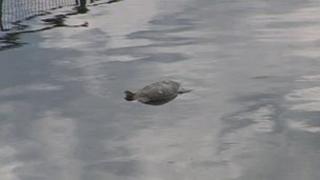 Fishermen in Lincolnshire say they lost thousands of pounds each day because of restrictions on harvesting shellfish.
The Food Standards Agency (FSA) prevented shellfish being harvested from The Wash after chemicals leaked into a Cambridgeshire river.
But Ken Bagley, from the Boston Fishermen's Association, said it was too far away to affect The Wash.
The FSA said the restrictions were a precautionary measure and were lifted on Thursday.
Mr Bagley said: "We never thought it would bother us, it's way up 30-odd miles away from us up the river, the River Nene, and it's contained between two locks. Why should that affect the fishing industry?
"It's stopped 20 boats in Boston and 30 boats from King's Lynn.
"Every boat has lost at least a thousand pound a day for two tonne of cockles landed."
Blamed on vandals
The Environment Agency said about 4,000 fish are believed to have died as a result of the chemical pollution at the weekend.
The chemicals were manufactured by Safapac, based at Orton Southgate near Peterborough.
The company said vandals broke into the company's secure chemical storage compound between 16 and 17 June.
Mr Bagley said: "It would be dissolved before it gets anywhere near to The Wash. There's millions and millions of tonnes of water in The Wash. It's like dropping a needle in a haystack."
A spokesperson for the FSA said: "We have now completed our risk assessment and are pleased to report that based on the information available to us we have no concerns over shellfish harvested from the wash being used for human consumption.
"Local authorities have been advised accordingly."