Lorry crashes into Horncastle bungalow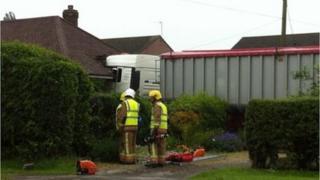 Homes were evacuated after a lorry crashed into a bungalow in Lincolnshire, damaging a gas pipe.
A neighbour said an elderly man in the bungalow had moved from his front room shortly before the lorry crashed into it.
The driver of the lorry was taken to hospital following the crash in Boston Road, Horncastle, at about 10:40 BST.
About 30 homes were evacuated but people were allowed to return at 13:15 BST after the gas pipe was made safe.
The 88-year-old man who lives in the bungalow was treated for shock.
Neighbour Ken Pickering went to help him.
"We heard this mighty noise," said Mr Pickering.
"I went round to make sure he was OK and as luck was he had just left his front room and gone to wash his hands in the bathroom.
"He might not have been here now because all his front room, his ceiling, is down and everything."
Lincolnshire Police spokeswoman Nerys McGarry said: "Potentially it could have been a lot worse."
She said the safety cordon had been lifted but part of the road was still closed so the lorry could be removed.