Seal pup saved by Lincolnshire dog walker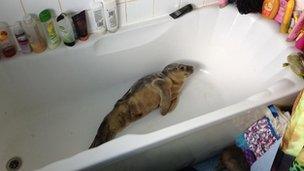 A dog walker who took a sick seal pup home after finding it on a beach has been credited with saving its life.
Mark Allsop noticed the animal had not moved on the shore near Holbeach, Lincolnshire, for five days before deciding to put it in his car.
The pup was placed in a bath at his Spalding home before experts from Hunstanton Sea Life Sanctuary in Norfolk were called.
They said the animal was very weak but was now being nursed back to health.
Mr Allsop said he carried the pup off the beach on 14 June.
"My wife Ilze was as concerned about the pup as I was," said the 40-year-old.
"But it took just a phone call to the Sea Life Sanctuary at Hunstanton and they were here within an-hour-and-a-half.
"In the meantime I'd offered it some tinned salmon, which it ignored, and put it in the bath and run some cold water for it, but it tried to crawl away from the water, so we just left it in the empty bath."
Hollie Stallworthy, a member of the sanctuary's team, said the female pup was in a "very sorry condition".
"It was touch and go whether she would survive," she said.
"Her trip to Spalding obviously hadn't helped matters, but Mark acted with the best of intentions and without doubt the pup would have died had he not found her."
If her recovery continues the seal, named Jessi-Jane, could be ready to return to the wild in about three months.
The sanctuary said the poor weather had led to a surge in sick young seals being found.
Related Internet Links
The BBC is not responsible for the content of external sites.