World Egg Throwing Championship entrants to raise £10,000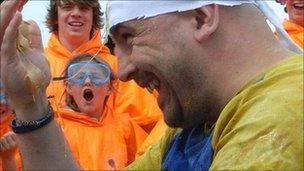 Organisers of the World Egg Throwing Championships have said they hope to raise up to £10,000 for charity.
Teams from as far apart as Germany and South Africa have gathered at Swaton, Lincolnshire for the 7th annual event.
They will compete in various disciplines include egg relays and egg Russian roulette as well as the headline distance-throwing challenge.
Chosen charities include leukaemia research, the local air ambulance and emergency response organisation LIVES.
The Netherlands are the current holders of the main title with a world record of 63.2 metres (208 ft).
The President of the World Egg Throwing Championship, Andy Dunlop said: "We are expecting records to fall. Ireland in particular seem very confident.
"We use a particular breed of chicken which gives harder shells therefore they should be able to be thrown over 70 metres".
Related Internet Links
The BBC is not responsible for the content of external sites.