Dutch win main World Egg Throwing Championship title in Lincolnshire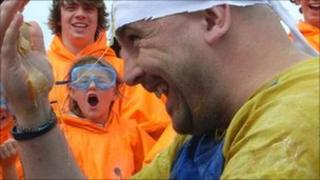 Dutch competitors have won the main event in the World Egg Throwing Championships in Lincolnshire, with England taking several other events.
Teams from as far apart as Germany and South Africa gathered at Swaton for the seventh annual event on Sunday.
The Dutch tossed a raw egg 40m to win the distance-throwing event, but failed to break their own record of 63.2m (208ft), organiser Andy Dunlop said.
A nine-year-old English girl won the egg target throwing contest, he said.
The organisers aimed to raise £10,000 for charities, including leukaemia research, the local air ambulance and emergency response organisation Lives.
Mr Dunlop, president of the World Egg Throwing Championship, said: "The Dutch are heroes in their country - it was front page news in some papers in Holland.
"I am pleased the English have restored some pride (by winning several events) after losing in the football penalties on Sunday evening."
He said nine-year-old Alicia Line from Helpringham, Lincolnshire, won the target contest ;and Jerry Cullen of Swineshead, Lincolnshire, won the Russian egg roulette contest.
Russian egg roulette involves cracking a series of eggs on the forehead until the raw one is discovered.