Waddington Air Show gets 60,000 through gates on first day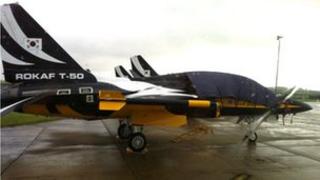 More than 60,000 people have attended the first day of an air show in Lincolnshire.
The RAF Waddington International Air Show takes place every year over the first weekend of July.
The seven-hour display included the Battle of Britain Memorial Flight and the South Korean Black Eagles who have never been seen in the UK before.
All proceeds go to the RAF and local charities. Organisers expect more than 100,000 to have attended by Sunday.
Director Paul Sall said: "The Air Show has incorporated a lot on new innovations this year while building on the successes of previous shows."
Chinook helicopters and Dutch F-16 jet fighters were also involved in displays.