Boston residents vote against migrant protest march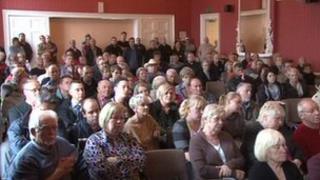 Residents in a Lincolnshire town have voted not to hold a march to protest against high levels of inward migration.
A public meeting held in Boston on Monday night ended with a vote of 66 to 64 against holding a demonstration.
In October a march in the town was cancelled over fears right-wing groups would hijack it.
Boston Borough Council said local action was being taken, but immigration itself was a national issue.
The town employs a large number of seasonal workers on surrounding farms to harvest fruits and vegetables.
Professor Gary Craig, from the University of Hull who has been looking into the migrant population of Boston, said the situation was difficult.
At the meeting, he said: "Those seeking to better their lives in Eastern Europe are entitled to come here, but for a considerable number the dream of improving their lives has turned out to be a nightmare.
"It's not factual that they are taking our jobs. They are doing jobs that no-one else seems to want to do. Employers have welcomed them, with their really strong work ethic.
"What would happen if they weren't here? There is no evidence to suggest that local people would fill those jobs."
He added migrant workers only made up 4 or 5% of Boston's workforce, estimating there were 6,000 in Boston.
Boston Borough Councillor Mike Gilbert said he was relieved the march would not be going ahead.
"I think a march would probably have deteriorated into farce," said Mr Gilbert.
"[Last year] a march would have been hijacked by a whole range of different groups who wanted to turn Boston into a playground of ideological battle."
Anti-social behaviour claim
Campaigner Bob McAuley said people had strong opinions about migrants in Boston.
"There are a lot of people, on the Facebook page of the protest group and who I talk to, who are advocating they would like to march here.
"It's mainly out of frustration, they can't see a lot happening.
"But things have been improving, meetings have been happening and strategies are being put in place which will improve lives in Boston."
He added: "The main concern is the anti-social behaviour and drunkenness and it's a great pity the whole of the migrant community gets painted with the same brush."
Paul Kenny, who chairs the council's task force on immigrant workers, said the authority and police were listening.
"We are looking at licensing HMOs, that is Houses of Multiple Occupation, and we have been looking at that as part of the new housing strategy.
"The wider issue of immigration is one for David Cameron rather than Boston Borough Council," he said.
Organisers added they would await the results of the borough council's report into inward migration before considering further action.