Bomber Command: Touring exhibition starts in Lincolnshire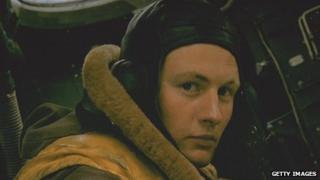 A new exhibition which aims to offer people the chance to experience life on board a Lancaster bomber is touring Lincolnshire's aviation museums.
Counting Them Home is an interactive display, which aims to help children learn more about the role of Bomber Command during World War II.
The display involves taking part in a bombing raid over occupied Europe.
It features simulated losses at all stages of the raid, taking hits from night fighters and anti-aircraft fire.
The exhibition tells the story of the 55,573 Bomber Command personnel who were killed in the Second World War.
Bomber County
It is run by Aviation Heritage Lincolnshire (AHL), which works to raise the profile of aviation heritage in the county.
Dave Harrigan, from AHL, said it was an important part in telling the story of Bomber Command to a younger generation.
Lincolnshire, which became known as Bomber County, is thought to have had more than 100 military airfields at the time.
It was also home to 617 Squadron, a force of Lancaster bombers commanded by Wing Cdr Guy Gibson whose role was to attack dams in Germany's Ruhr Valley.
The exhibition, which is funded by the Heritage Lottery Fund, can be seen at the following museums:
Battle of Britain Memorial Flight Centre at RAF Coningsby until 26 July.
Grantham Museum until the 10 September.
Lincolnshire Aviation Heritage Centre, East Kirkby, 13 - 29 September
Cranwell Aviation Heritage Centre, North Rauceby, 30 September - 10 October.