Iceland shuts door on lost seal's return from Skegness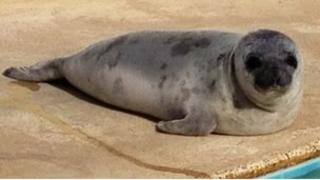 Animal rescuers who saved an Icelandic seal which swam to Lincolnshire after getting lost have been told they cannot return it to Icelandic waters.
Skegness Natureland rescued the hooded seal, named Eve, from the sea at Chapel St Leonards in December and were planning to return her to Iceland.
But the authorities there have said Eve cannot be returned as she might carry diseases back with her.
The sanctuary said it would now seek advice on alternative options.
Eve, who is thought to have been born somewhere between Iceland and Canada, was originally rescued by a seal sanctuary at Friedrichskoog, on the coast of Germany, last August.
Staff there fattened her up, fitted her with a tracking device and released her in the hope she would head back to Iceland.
'Carrying disease'
The device showed Eve swam to Scotland and the Orkney Islands but then changed direction and headed for the east coast of England.
She was rescued at Chapel St Leonards by Natureland staff who have been raising money to take her back to Iceland.
Natureland's Duncan Yeadon said: "We've been in contact with the Icelandic embassy who put us onto their version of Defra.
"We eventually heard back that they won't allow us to take her up there, unfortunately.
"It's understandable in a way because they're afraid of her transferring or carrying disease from our waters and infecting the seal population there."
Mr Yeadon said marine experts would now help them decide what their next step would be.
He said: "It's a bit of a dilemma really. We could release her from the British coastline - either Skegness or further north - and hope she finds her way home, or give her a home here.
"She's spent the majority of her life in seal sanctuaries and we're concerned she might be a bit too humanised to be released.
"Ideally we would like to release her in the hope she will go back to where she belongs but we wouldn't want to release her and find she is not able to fend for herself."
Mr Yeadon said a decision on Eve's future would be taken in the next few weeks.