Dairy farmers demonstrate at Asda over milk cuts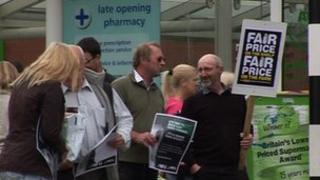 Leicestershire dairy farmers have been demonstrating outside a supermarket over cuts to milk prices.
More than 20 farmers gathered outside Asda at Thurmaston on Saturday, including some who attended a summit in London on Wednesday.
A spokesperson for Asda said: "We are continuing to have discussions with the farmers who supply us with our milk.
"We will continue to meet with our farmers and their representatives over the coming days and weeks"
A farmers' union representative told the summit on Wednesday that dairy farmers from across the UK had been "pushed to the brink" by cuts to the price of milk
About 2,000 farmers gathered to protest at the latest cuts by processors of up to 2p a litre.
Four leading dairy processors announced the latest cuts including Arla Foods UK which supplies milk to Asda.
Asda said: "We pay a premium above and beyond the Arla base price. That premium benefits each one of the 300 dedicated farmers who supply Asda with milk."
The NFU said an average farmer, with about 150-200 cows, would lose about £37,000 in revenue from the combined effect of cuts in May/June and August.
Those cuts would not affect farmers supplying Tesco, Sainsbury's, Marks & Spencer or Waitrose as they are paid directly by the supermarkets.