Lincoln's City Square to become beach resort for summer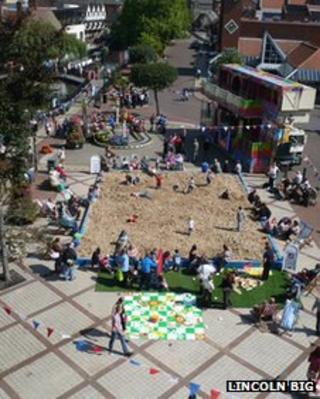 An urban beach, complete with Punch and Judy show and Skegness beach hut, is set to return to Lincoln.
Lincoln Business Improvement Group (BIG) is transforming the City Square for residents to enjoy the seaside without leaving the city.
Sixty tonnes of sand will be brought in to create the resort of "Lincoln by the Sea".
The beach will be installed on 24 July and will host a number of shows and activities during the summer.
Michael Armstrong, from Lincoln BIG, said: "After having so many grey days, we are hoping it will be a real bonus for everyone this year.
"The weather has been extremely disappointing so far this month, but we are hoping the jet stream will have shifted and we will have lots of warm, sunny days."