MP Keith Vaz promises to closely monitor G4S deal with Lincolnshire Police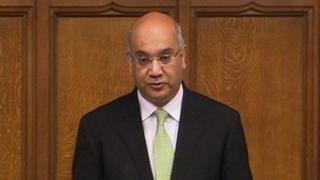 A £230m outsourcing deal between security firm G4S and Lincolnshire Police will be "closely monitored" by the Home Affairs Select Committee.
Chairman Keith Vaz said the committee is keeping an eye on the contract with G4S, which is under fire for a separate deal to provide staff for the Olympics.
The police force has a 10-year deal with G4S to provide civilian services.
A G4S statement said: "We have made a solid start in delivering specific services and savings in Lincolnshire."
'Sound job'
More than 500 civilian staff working for Lincolnshire Police transferred to G4S in April, including those working in finance, human resources, custody, the force control room and firearms licensing.
G4S will also build a large police station in the county, containing a two-storey office block and a custody suite with 30 cells.
Lincolnshire Police Authority chairman Barry Young said he was satisfied with the work of G4S in Lincolnshire since the firm started working with the force.
"Our contract here is with a completely different part of G4S's organisation than the Olympics … and what we have seen since the contract was implemented on the 1 April is that they have done a very sound job for us.
"Whatever may or may not be happening in London has nothing to do with us."
G4S chief executive Nick Buckles told the committee this week that his company was "up to the job" of providing support services for Lincolnshire Police.
But he admitted the Olympic staffing problem was a "humiliating shambles for the company".
The government has drafted in an additional 3,500 troops to help with Olympic Games security.
Mr Vaz, Labour MP for Leicester East, said: "Those who monitor this contract should look at it very carefully to make sure it is robust and they are carrying out their responsibilities.
"People need to be very careful in the way in which they negotiate private sector contracts - monitor these contracts as carefully as you can and make sure people deliver what they promise to deliver."
Karl McCartney, Conservative MP for Lincoln, said he was certain the contract would be monitored carefully by the existing police board and the police chief.