Woodhall Spa hosts third annual worm charming event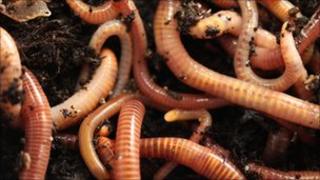 A Lincolnshire village is set to host its third annual worm charming championships.
The contest at Woodhall Spa's Country Park on Saturday will see competitors attempt to lure as many worms as possible out of the ground.
Contestants can bring worms to the surface by sticking a garden fork into the ground and making it vibrate.
A winner is decided by who can raise the most worms in 30 minutes from a three metre square patch of ground.
Organiser Kay Hayden described the event as "British eccentricity at its best".
Going good
She said: "It's all to do with the vibration - most people bring a garden fork and tap it to make the worms come up.
"There's no digging allowed and no liquid either", she said.
She added that the recent wet weather should provide "good conditions for worm charming" - unlike the first event in 2010 when no worms were raised.
The Woodhall Spa record stands at eight worms in 30 minutes - set last year by the Johnson family.
Competitions have been held in England since the 1960s.
According to Cheshire's World Worm Charming Championships, a world record was first set in 1980 by Tom Shufflebotham who raised 511 worms.