Louth Town Hall handed over to community by council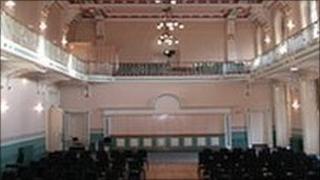 A Lincolnshire town hall is to be turned into a "community hub" after its council owners handed it to a local group.
East Lindsey District Council announced it could no longer afford to run the hall last July and invited groups to take over the running of it.
The not-for-profit Louth Community Education Trust (LCET) has now been named as the successful bidder.
The trust said it wanted to use the hall for learning and entertainment.
East Lindsey District Council said handing over the hall would save it about £58,000 a year.
'Did our research'
John Upsall, portfolio holder for property, said: "The trust put together a robust business plan to take over the running of this important local building and they have made a clear commitment to keep the town hall at the heart of the community.
"Although there are the usual processes to go through before the deal is completed, I am pleased the council is able to support them in their aspiration to create a community hub."
The authority said the building could pass into community ownership as early as October.
The LCET said entertainment, sales and exhibitions put on at the hall would generate revenue to allow the hall to be used by local groups and schools.
Bid leader Andrew Howlett said: "When we saw the hall was no longer needed by East Lindsey, we thought we couldn't afford to lose this for the community.
"There are so many things the people of Louth could do with this that we needed to put in a business plan.
"So we did our research, found out what we think people want and now we're ready to give it a go."