St Kitts murder: Kevin Horstwood to stand trial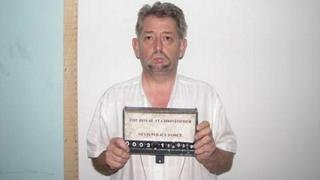 A former Lincolnshire businessman is to stand trial accused of stabbing an employee to death in the Caribbean.
At a hearing known as a preliminary inquiry, a magistrate in St Kitts assessed the evidence and decided Kevin Horstwood had a case to answer.
The 53-year-old denies murdering US citizen Matthew Murphy on the island in December.
There will be a hearing to set a trial date later in the year.
The case will be heard at the High Court in St Kitts.
Mr Horstwood will continue to be held in prison on the island until then.
Death penalty
Mr Murphy worked as a handyman at the Rawlins Plantation Inn which Mr Horstwood ran for seven years.
Mr Horstwood used to live in the Lincolnshire village of Langton.
In a letter sent from prison to the Caribbean Travel & Life magazine, he described himself as a "highly qualified architect and manufacturer".
He said he had owned a factory in Wales which he sold before moving to St Kitts.
The death penalty has not been abolished on the island.
However, despite a high murder rate with 34 killings last year, St Kitts last executed a prisoner in 2008.