University of Lincoln science park plans announced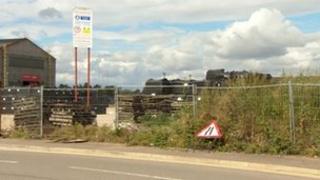 The University of Lincoln is planning to build a new "world class" science and innovation park on disused land in the city centre.
The development, on a 10-acre site owned by the Lincolnshire Co-Operative, will house a mix of university departments and commercial buildings.
University bosses said the project was based on similar parks in Cambridge and Welwyn Garden City.
Initial work on the complex is expected to be complete by the end of 2013.
The University said the development would house its School of Life Sciences as well as its proposed new School of Pharmacy.
As "anchor tenants" the university would create "spin-out businesses" and work to encourage science and technology firms to the site.
'Ideal location'
Mary Stuart, the university's vice chancellor, said: "This will bring massive benefits to the city in terms of employment and inward investment.
"Highly skilled professionals who have previously looked outside Lincolnshire for career opportunities will be attracted to the area or encouraged to stay.
"The potential to bring in new investors and high-tech businesses to boost the local economy is enormous."
Ursula Lidbetter, chief executive of Lincolnshire Co-Operative, said: "We think there's a huge opportunity to turn this underused site into a stimulating place to work and study.
"It's an ideal location for a science park as it's so close to the university campus and Lincoln city centre."
The university said an initial £10m will be invested in the project by itself and the co-operative with a planning application due to submitted later this year.